In modern glass block production, glass blocks as well as glass pavers are manufactured with two moulded halves. The webs of the two halves are heated to approximately 800 degrees Celsius and then pressed together forming a hollow glass block. During an annealing process a vacuum of approximately 70% is formed in the block interior thus preventing the formation of condensation. The lateral surfaces of the glass block are provided with web paint in order to conceal the construction process in vertical panelling.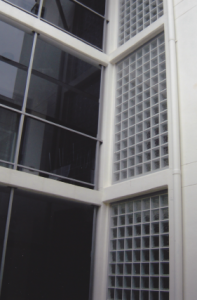 The modern glass block not only provides sound and thermal benefits  but also depending on the block can direct light, diffuse light, colour light and reflect solar energy. However, perhaps the greatest benefit of the glass block is the ability to provide fire resistance levels in construction where natural light is required. Glass blocks are cost efficient, relative to standard alternative FRL systems such as glass, shutters and sprinkler systems and alternative means of attenuation such as fire attenuation mesh systems.
BCA COMPLYING COMPONENTS OF CONSTRUCTION
BCA:  C3.2 Protection of openings in external walls;
Openings in an external wall that is required to have an FRL must-
Be not less from a fire source feature to which it is exposed to than-

1 m in a building with a rise in storeys of not more than 1; or
1.5 m in a building with a rise in storeys of not more than 1; and
if situated less from a fire source feature to which it is exposed than-
3 m from a side or rear boundary of the allotment; or 6 m from the far boundary of a road adjoining the allotment, if not located in a storey at or near ground level; or
6 m from another building on the allotment that is not Class 10, be protected in accordance with C3.4 and if wall wetting sprinklers are used, they are located externally
if required to be protected under (b) , not occupy more than 1/3 of the area of the external wall of the storey in which it is located unless they are in a Class 9b building used as an open spectator stand
To summarise the BCA C3.2 (b)-I requirement does not permit unprotected openings within 3 m of a building and the fire source feature.
BCA: C-18; Section C3.4 Acceptable methods of Fire Protection
Where protection is required, doorways, windows, and other openings must be protected as follows;
Doorways – internal or external wall wetting sprinklers as appropriate -/60/30 fire doors
Windows – internal or external wall wetting sprinklers as appropriate -/60/- fire windows, glass blocks  or automatic shutters
 Other openings – internal or external wall wetting sprinklers as appropriate or construction having FRL not less than -/60/-
Fire doors , fire windows and fire shutters satisfy a) if they comply with specification C3.4
BCA ALTERNATIVE COMPLIANCE SOLUTION PROPOSAL
Section A – General Provisions – Part A0 – Application
A0.8 Alternative Solutions
 An alternative solution must be assessed according to one or more of the assessment methods.
An alternative solution will only comply with the BCA if the assessment method used to compliance with the performance requirements have been satisfied.
 Comment:
Fire attenuation screens fall under alternative solutions and require both an engineer's report along with approval by the Qld Fire Protection Service in order to satisfy BCA requirements. Both procedures are costly and time consuming.
Fire attenuation however offers a solution in providing natural air flow more cost effectively than either automatic shutters and or sprinklers.
BCA 10 Part C – CV1 Verification methods
CV1           Compliance with CP2(a)(iii) to avoid the spread of fire between buildings on adjoining allotments is verified
When it is calculated that-
A building will not cause heat flux in excess of those set out in column 2 of Table CV1 at locations within the boundaries of an adjoining property set out in column 1 of Table CV1 where another building may be constructed; and
When located at the distances from the allotment boundary set out in column 1 of Table CV1, a building is capable of withstanding the heat flux set out in column 2 of Table CV1 without ignition.
Comment;
Heat flux is the primary causal factor of higher insulation requirements in build construct.
QUESTIONS: Most commonly asked questions when dealing with passive fire rating.
Q1 Interpretation of Regulations e.g. where do we need fire resistant glazing? When should it be integrity only?
When should it be integrity and insulation?
Fire resistant levels are interpreted by state, council, building inspector or fire officer along BCA guidelines, interpretation may vary from council to council. Generally however, it can be assumed that insulated glass will be required around stairwells and evacuation points along with boundary construction. Heat flux is a governing factor in insulation requirements.
How do you interpret FRL's and what specifically are FRL's
FRL's or Fire Resistant Levels are rated on a number of testing methods the most common is The Standard Cellulosic Time-Temperature Curve. This ISO – based testing method is used in standards throughout the world, including AS 1530 (Australian Standards for ; Methods of fire tests on building components and structures. Grading of levels are standardised to 15 minute time frames. The most common is 60 minutes.
A Fire resistant level is therefore not a property of an individual material but is a measure of the performance of a  complete system of construction when exposed to the standard heating test method as outlined. The three criteria of performance based analysis are (1) Structural adequacy – the ability of a specimen to maintain structural load integrity (it is noted that glass has no structural load capacity) so this is stated as e.g. FRL -/60/60) (ii) integrity – the ability of a structure to contain a fire to a specified time frame without collapse, freedom from holes, fissures and cracks and sustained flaming on the unexposed face. e.g.for integrity only FRL reading would be FRL -/60/-  (iii) Insulation – the ability of a separating element to restricttemperature rise of the exposed face to below specified levels, whilst the surface on the unexposed side is cool to the touch and never exceeds 120 degrees Celsius.e.g. for integrity and insulation FRL would be FRL -/60/60
Comment: Glass Blocks can achieve a Fire Resistant Level up to two hours integrity FRL -/120/- and 90 minutes integrity with 90 minutes insulation FRL -/90/90. It is possible to engineer glass panels to 4 hours integrity.
 Glass Blocks
Can fire rated glass block panels be prefabricated and supplied with timber revels?
Due to current construction methods FRL glass block panels are predominantly laid in situ as mortar construction prohibits prefabrication. Timber revels are not classified as a sufficient passive fire prevention material and are therefore excluded in construction. Frames are provided to allow for an expansion barrier between alternative substrates.
RANGE
FRL -/30/-
FRL -/60/-
FRL -/90/-
FRL -/60/30
FRL -/90/60
FRL -/90/90
FRL -/120/-
FRL -/120/60