Our most popular unit is the Bullock Model 5650 Drop lock type Fire Damper which has led the marketplace in the small damper technology in Australia for many years. It is of lightweight construction with a superior closing ability which has made it the leading fire damper available.
Complying with both AS1682.1-1990 and AS1668.1-1998, the model 5650 is certified and tested to
FRL -/240/- in a masonry wall or concrete slab, and to FRL -/120/- in a steel studed plasterboard partition and also a 3x16mm plasterboard partition – all these tests were without the need for support rods or lintel beams.
Model 5650 Fire Damper Features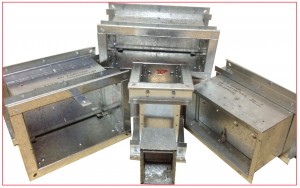 Certified in Australia to AS1682.1 – 1990 by the CSIRO in:
i) Masonry walls for 4 hours. Test #- FSP-0145, FSP-0146
ii) Concrete slabs for 4 hours. Test #- FSP-0505
iii) Steel Stud Plasterboard partition for 2 hours. Test #- FSV-0100
iv) Non-loadbearing vent shaft patition (48mm) for 2 hours. Test #-FSV-0538v
Optional Airflow tested by the CSIRO for blade closure in Excess of 8m/s. Test #- FS2946/1558
Damper has Single Hand Reset from either side
Fitted with an Approved UL33 fusible link (165oF – 74oF) in closed hook for easy replacement (no tools)
Non Welded Light-weight construction ensures the integrity of the damper's galvanized coating
Recessed angle design permits a raw edge easy duct attachment, with breakaway characteristics meaning that no fastening screws are required
Available with an Optional TDF/TDC flanges can be supplied to match 25mm or 35mm ductwork
Double action 301 stainless steel spring with blade dimples provide positive low-leakage shut off
features a low leakage rate of 20% PERMISSIBLE LEAKAGE as per AS1682.11990
Available with an Optional factory set 10mm patented Bullock Metal Expansion Gap Seals are available at the time of ordering, ensuring AS1682.2-1990 Section 5.2 is complied with (patented Bullock Metal Expansion Gap Seals)
Available with a Side blade closure dampers available for specific building applications
Duct to Duct (D) and Duct to Grille (GS) configurations in sizes 100mm x 100mm up to 400mm to 250mm available at short notice
The body style "GS" is the same outside dimensions as Style "D". Grilles or Registers will need to fit in a clear opening 10mm less than nominal size. (Example: Nominal 200 x 200 will have a clear opening of 190 x 190. *Refer blade closure against the airflow test for optional airflow direction rates (Blade Closure)
Permissible Air Leakage Test Number 323
In the closed blade position, Bullock Model 5650 drop lock type fire damper passes the permissible air leakage test with flying colours! No other fire damper of it's kind comes close. The double action stainless steel spring with blade dimples provides a positive low leakage shut off.
Blade Closure Against Airflow Test
CSIRO testing shows that the 5650 fire damper blade closes at the following. (Test #- FSZ-0522)
Size 150 x 150 = 11.0 m/s*
Size 200 x 200 = 18.0 m/s*
Size 250 x 250 = 19.0 m/s*
Size 400 x 250 = 16.5 m/s (Double Spring)*
Size 400 x 250 = 10.0 m/s (Single Spring)
*Maximum speed at which Bullock test blower was capable of as per Damper size
Installation
Compliance with installation is critical. Refer to separate installation instructions to suit your application, all mechanical fire dampers require expansion gaps
Maintenance
This model requires little maintenance once installed. Refer to AS1851.6-1997 for detailed servicing procedures
Test Certificates (Slab Wall) are available
If you think that the Model 5650 Fire Damper has the features for your application then call us on 0431 547 194 to discuss your application.