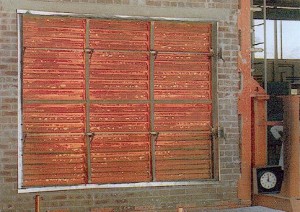 Fire dampers
are passive fire protection products. They are generally used in ducting for either air conditioning, heating or ventilation, and there express purpose is to prevent the spread of fire inside the ductwork through fire-resistance rated walls and floors. Fire Dampers for Ductwork can also be used to stop Air transfer through floors or walls. This type of damper is generally set flush within the ducting, we make this in many sizes, both standard and custom, to suit all applications. Dampers are either developed for horizontal or vertical installation, but some are designed to work in both installation alignments. Fire Dampers can be designed to work for fire exposure in either 1 direction or both directions.
Our Standard Range of Fire Dampers
Model 4800 Multi-Blade Type
Model 5691A Ceiling / Radiation Assembly
Model 5691 Ceiling Damper
Laws and fire test routines differ from one state to another, this leads to various designs and application options. Please give us a call on 1800 679 577 to discuss you application.
Both mechanical and intumescent dampers form part of a passive fire defence systems, which can include fire-resistance rated walls, floors, and even ducts or cable television tray fireproofing. They are PFP systems. Whether an opening is mechanically closed or whether it is the physical/chemical action of an intumescent system that does the work, they are turned on by heat and then move to satisfy a fire security function, likewise they are technically certified to form part of active fire defence systems. We supply and install the Australian made Bullock's Fire Dampers.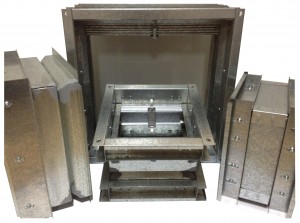 Air Transfer Dampers
Air transfer fire dampers (ATFD) are not attached to any ductwork and for that reason need to be designed to suit the application, we can assist with this design process. As such these Air transfer fire dampers are passive such as mechanical types or intumescent types.
Unlike fire dampers in ducts the closing time of ATFDs are vital to prevent fire death.
Smoke Dampers
Smoke dampers are comparable to fire dampers in fire resistance score, and likewise avoid the spread of smoke inside the ducts.
Depending upon State requirements Smoke Dampers may have different design requirements to fire dampers.
Intumescent dampers
can be to ISO 10294-5:2005, these fire dampers swell shut due to intumescence in the occasion of a fire.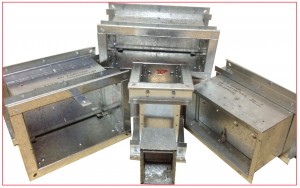 Fire dampers< are passive fire security items chosen in ducts to avoid the spread of fire inside the ductwork, where it passes through fire-resistance rated floors and walls. Smoke dampers are comparable to fire dampers in fire resistance score, and likewise avoid the spread of smoke inside the ducts. When an increase in temperature level happens, the fire damper closes, normally turned on by a thermal aspect which melts at temperature levels greater than low however ambient enough to suggest the presence of a fire, permitting springs to close the damper blades. Fire dampers can close following invoice of an electrical signal from a fire alarm system using detectors remote from the damper, suggesting the sensing of heat or smoke in the building inhabited areas or in the HEATING AND COOLING duct system.
If you are looking for Fire Damper Installation Australia wide then call us on 0431 547 194 to discuss you application.